Quick access to mental health information
Learn practical, evidence-based information for supporting patients and treating mental health and addictions. Topics are organized to help professionals make informed decisions about mental health care. Many of these topics were developed from Psychiatry in Primary Care, 2nd edition, but resources listed here may be relevant to multiple disciplines.

Learn more about treating conditions and disorders:
CAMH Virtual Reality (VR) Suicide risk assessment training
The CAMH Simulation Centre has designed and developed an innovative Virtual Reality (VR) suicide risk assessment training. This VR suicide risk assessment training offers participants the opportunity to complete a suicide risk assessment with two different avatar patients.
Psychiatry in Primary Care
Psychiatry in Primary Care: A Concise Canadian Pocket Guide is a comprehensive, practical resource designed to support the work of primary care providers who encounter mental health problems in their everyday practice.
This expanded and updated second edition reflects the latest evidence, using a "just the pearls" approach to providing clinically tested guidance on detecting and managing mental health problems within the primary care context. With contributions from more than 40 experts across Canada, this guide features useful tools, established diagnostic criteria and treatment options, including pharmacotherapy and psychological approaches. Topics range from depression, substance use and posttraumatic stress disorder to disability and insurance claims. This edition also reflects evolving technology, with extensive lists of web-based resources and apps that primary care practitioners can use and share with their patients to complement treatment.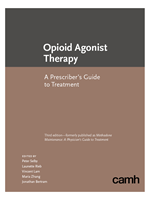 Opioid Agonist Therapy: A Prescriber's Guide to Treatment
Health care providers play a key role in addressing Canada's opioid use crisis. Opioid Agonist Therapy: A Prescriber's Guide to Treatment is a comprehensive, practical resource that supports the work of physicians and nurse practitioners who prescribe medication to treat opioid use disorder. It provides the latest guidance for using OAT medications—methadone, buprenorphine, slow-release oral morphine and injectable diacetylmorphine and hydromorphone—to meet the varying needs of people with opioid use disorder. Learn more about the book.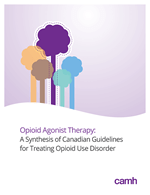 Canadian Opioid Use Disorder Guideline
Canada is in the midst of an opioid crisis, making it important to disseminate standardized approaches and evidence-based recommendations for managing opioid use disorder. Opioid Agonist Therapy: A Synthesis of Canadian Guidelines for Treating Opioid Use Disorder is a national clinical guideline that harmonizes existing guidelines, evidence-based practices and expert opinions into one document, with the aim of providing consistent and high-quality care to people with opioid use disorder.